Great companies are
Zenduty's end-to-end incident alerting, on-call management and response orchestration platform helps you institutionalize reliability into your production operations
360°
view of your operational health in real-time
Get a single pane of glass view of the health of all your production operations. Respond to incidents 90% faster and resolve them 60% faster
Multiple alert sources, single incident pipeline
Zenduty integrates with all your application performance monitoring, log monitoring, error monitoring, server monitoring, ITSM, support and security applications
Build a
solid
on-call culture.
Deploy customized and data-driven on-call rotations to ensure 24x7 operational coverage for major incidents
Frictionless
incident response
Deploy industry-leading incident response procedures and resolve incidents faster through effective task delegation and collaborative triaging
Be prepared with
actionable
playbooks
Bring your playbooks automatically into your incidents. Log incident tasks and action items for productive postmortems and future incidents
Focus on alerts that
Matter
Suppress noisy alerts so that your engineers and support staff are focused on the alerts that matter
Zenduty takes care of the entire incident communications by automatically creating dedicated conference bridges, Slack/Teams channels, Zoom/Webex bridges, Jira tickets and adding all responders and stakeholders to the relevant communication channels
Everything you need to minimize your
mean time to recovery
Get started
Flexible Scheduling
Shift restrictions, overrides and forwarding
Intelligent Context
Use rich data to triage faster
Incident Playbooks
Use playbooks to enhance incident preparedness
Analytics and Reporting
Use data to build response strategies
Integrations + API
Monitor any service with Zenduty
Integrated ChatOps
Collaborative triaging from Slack and Teams
24x7 Support
We're on call when you're on call
You're in good hands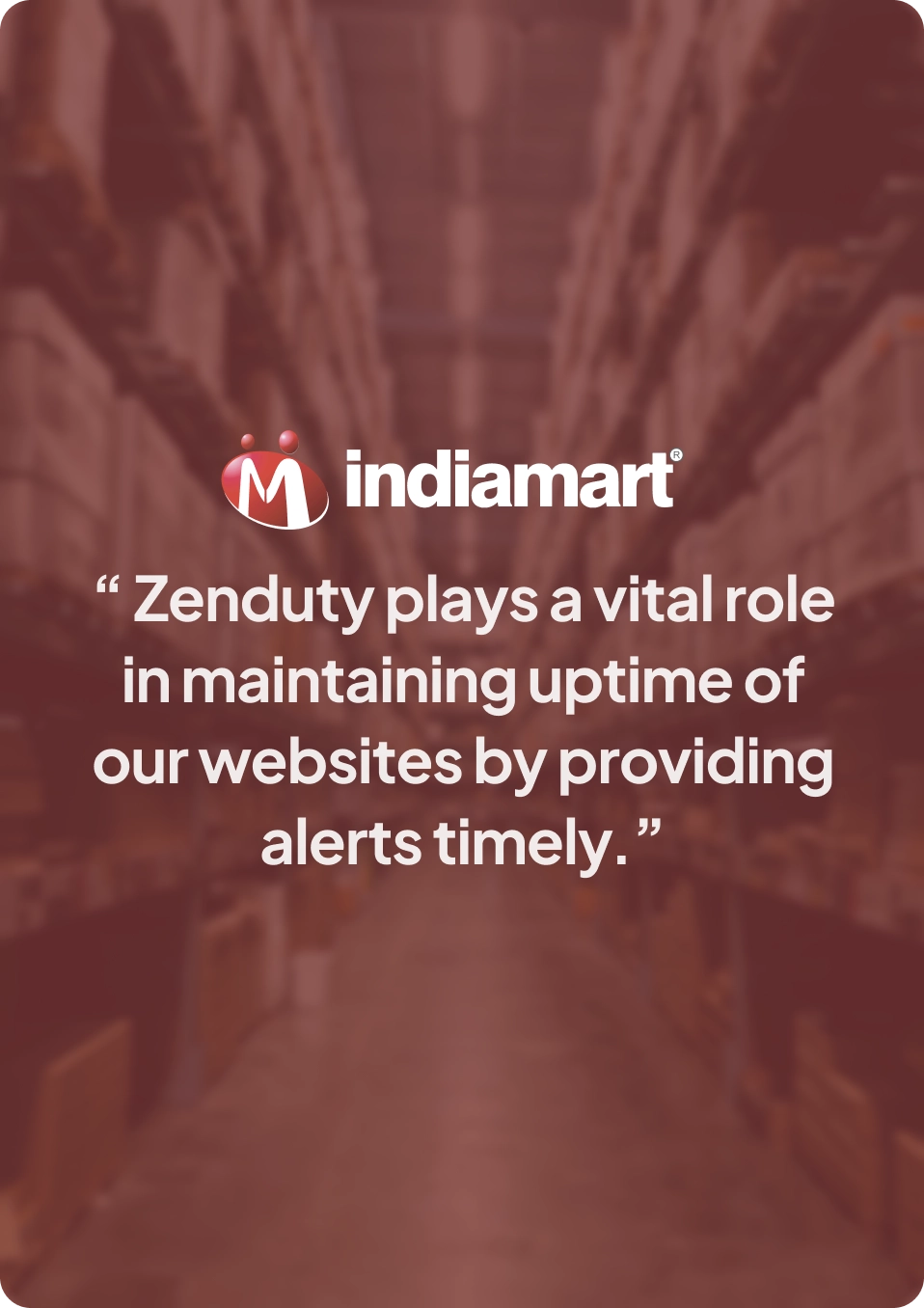 Build a world class culture of
Reliability.
Signup today for free. No credit card required.